5 Best Worm Drive Saws in 2023 – A Complete Buyer's Guide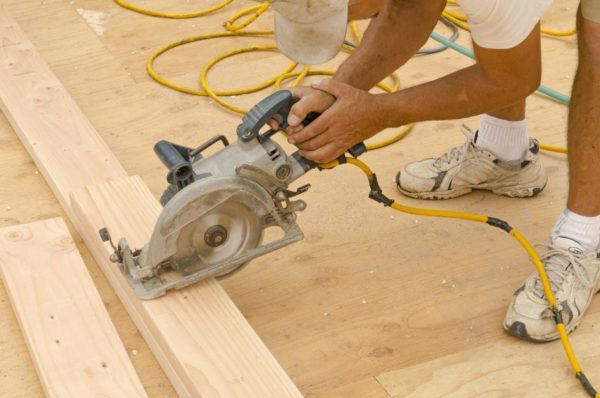 A worm drive saw offers more power in a compact, ergonomic design. The reason why it is more powerful than a regular saw (despite its smaller size) is that it utilizes a worm drive, which is a compact gear system that is capable of high-ratio speed reduction.
Speed reduction allows for an increase in torque, making worm drive saws formidably equipped for heavier jobs like cutting through 4 x 4's and bigger, and uncured woods.
If you're short on time but eager to find the right product, this article will walk you through the 5 best worm drive saws you can buy this year.

Best Overall
Best Value
Hitachi C7WDM 7 1/4" 15-Amp Worm Drive Circular Saw
SKILSAW SPT77WML-01 15-Amp 7-1/4-Inch Lightweight Worm Drive Circular...
BOSCH 7-1/4-Inch Worm Drive Circular Saw CSW41, Blue
Makita 5377MG 7-1/4" Magnesium Hypoid Saw
Makita 5477NB 7-1/4" Hypoid Saw
Best Overall
Hitachi C7WDM 7 1/4" 15-Amp Worm Drive Circular Saw
SKILSAW SPT77WML-01 15-Amp 7-1/4-Inch Lightweight Worm Drive Circular...
BOSCH 7-1/4-Inch Worm Drive Circular Saw CSW41, Blue
Makita 5377MG 7-1/4" Magnesium Hypoid Saw
Best Value
Makita 5477NB 7-1/4" Hypoid Saw
Last update on 2023-09-29 / Affiliate links / Images from Amazon Product Advertising API
What Matters When Buying a Worm Drive Saw
The Motor
Worm drive saws usually have rear placed motors placed perpendicularly to the blade. This enables them to transfer power more quickly, making it possible to reduce blade speed in order to get more torque.
Most worm drive saws come equipped with a 15-amp motor that's capable of up to 4,000 rotations per minute (RPM). This is enough RPM for both DIY tasks and professional jobs.
Ergonomics
Handling a high-powered saw requires it to have a good ergonomic build that allows you to maintain control over it throughout.
When buying your first worm drive saw, try to strike a balance between raw power and ergonomics if you want a tool that's powerful but easy to use.
Cordless Vs. Corded
If you need a lot of mobility at your workbench, consider going cordless. You'll be sacrificing a bit of power for the extra freedom, but if you're not cutting through 6 x 6's on a regular basis, you'll not miss it too much.
Don't go for cordless models if you want a tool that will constantly be used for heavy tasks. A boost in power and torque becomes a much-needed ally when chewing through uncured wood and large blocks.
Are Worm Drive Saws and Hypoid Gear Circular Saws the Same?
Here's a quick rundown on types of circular saws.
First, we have the regular circular saws that have a straightforward motor-blade configuration (no gears). The blade in a regular saw has the same amount of torque as its motor. Using it for heavier jobs runs the risk of overpowering its motor.
This is where worm drive circular saws come in. Worm drive saws combine a high-speed motor with a reduction gear to facilitate more torque. They are more powerful and can reach lower blade speeds, so cutting through tough woods like sappy or undried logs is an easier task when you use this kind of circular saw.
What's the difference between a worm drive gearbox and a hypoid gearbox? Worm drive gearboxes require regular servicing to stay in working order. Hypoid gearboxes are sealed during the manufacturing process. Therefore, such circular saws don't need routine gearbox servicing.
Why Blade Choice Matters
For the most part, worm drive/hypoid circular saws are shipped with a saw blade that's designed for both rip and cross cuts. While a versatile blade like this is handy in most situations, it doesn't deliver the same flawless cuts you'd get from a dedicated cross cut or rip cut saw blade.
Getting the right saw blade for the job is just as important as getting the right saw. Saw blades are available for a diverse range of wood cutting purposes, including:
Fine-tooth finishing – because they have more teeth, fine-tooth blades are better suited to make clean cuts for finishing jobs.
Paneling – a paneling blade comes in handy when dealing with light-gauge materials like plywood, veneer, laminates, and even plastic.
Cutting nails – this blade is used to cut through wood with nails and other foreign materials in it.
Ripping – cutting with the grain (ripping) requires a special ripping blade.
Crosscut – a crosscut blade is necessary for cutting across the grain. These make poor ripping blades because they can easily overload the saw.
What Else Do You Need to Look Out For?
1. Blade Quality
Before you shy off from buying expensive blades, consider this: high quality blades are designed to last longer because they're made from better steel using techniques like laser cutting.
Cheaper blades dull out quickly with heavy use and are more prone to making rough cuts.
2. Number and Angle of Teeth
Blades with more teeth in relation to their diameter make cleaner cuts but are also more expensive. On the other hand, blades with fewer teeth are cheaper but are also less likely to clog because they rip out bigger chunks, creating wider cuts.
Similarly, blades can make better or worse cuts depending on the attack angle of their teeth. Neutral and negative cuts are better for straighter cuts, but aren't ideal for fast jobs. Aggressively hooked blade teeth cut faster, but also create more tear out.
3. Expansion Slots
If you don't account for blade expansion, you're going to end up with warped blades sooner or later. Look for laser-cut saw bodies or blades with expansion slots to get higher quality cuts consistently even after prolonged use.
4. Blade Protection
Some blades come with coatings that prevent gum buildup, friction, corrosion, and rust. Spend on a protected blade if you want a tool with a longer lifespan.
Best Worm Drive Saws
Last update on 2023-09-29 / Affiliate links / Images from Amazon Product Advertising API
The Hitachi C7WDM features a 15 amp motor with a 5,000 RPM rating. Coupled with its lightweight, ergonomic build, this is a worm drive saw that's designed for tackling heavy jobs rapidly.
Even at first glance, the C7WDM oozes quality. Its rafter hook and depth adjustment levers are built from steel, making this a tough saw for all occasions.
Under the hood, you'll find reliable worm drive gears that boost the torque dramatically, allowing you to slice through thick wood with ease.
Held at 45 degrees, the saw blade gives you a cut depth of 1 3/4 inches. The cut depth changes to 2 3/8 of an inch at 90 degrees.
The bevel is also made of steel, capping off what is a ridiculously well-made worm drive saw that's clearly built for hardcore industrial use. Its improved rafter hook allows the saw to be stored in three different positions.
The saw comes with two 7 1/4-inch premium VPR framing blades.
Hitachi C7WDM Pros & Cons
Pros
Pros
Very solid build that includes vital steel components
Lightweight, ergonomic build
Smooth and speedy operation
Great for making fine cuts
Amazing saw for making tight cuts
Comes with two free blades
Cons
Cons
A bit on the heavier side
Left-handed people may have issues with cut visibility
Last update on 2023-09-29 / Affiliate links / Images from Amazon Product Advertising API
Hypoid gears guarantee you of a virtually maintenance-free sawing experience, but how do they contribute to the blade speed and torque?
The Makita 5477NB provides both in abundance thanks to its 15 amp motor with ball bearing construction. Designed for a diverse range of uses, the 5477NB excels as a framing, building, carpentry, OSB, LVL, PSL, and plywood saw.
The Makita 5477NB saw features a sealed hypoid gearbox with oil bath technology that keeps bearings constantly lubricated. This means that there's a lot less maintenance involved.
It ships with a 7 1/4-inch framing blade with carbide-tipped teeth that are capable of chewing through nail-ridden wood like butter. Such a blade can become heated pretty quickly, which is why Makita thoughtfully adds heat vents to help in heat dissipation and performance.
The 5477NB has a maximum no-load speed of 4,500 RPM, which is decent by any standards, and cutting capacities of 2 3/8 inches at 90 degrees, 1 9/16 inches at 50 degrees, and 1 3/4 inches at 45 degrees. Weighing just over 14 pounds, the saw is made easier to handle by the inclusion of a large ergonomic rubberized grip and quick-access spindle locks and blade wrench buttons for easier blade changes.
Makita 5477NB 7 Pros & Cons
Pros
Pros
Suitable for a wide range of woodworking applications
Hypoid gearbox makes it easier to maintain
Oversized rubberized grip makes it easy to wield and maneuver
Switching the saw blade is quicker thanks to convenient button placement
Cons
Cons
This is not a lightweight saw; some deftness and experience is required
It doesn't come with the necessary blade changing tools
Last update on 2023-09-29 / Affiliate links / Images from Amazon Product Advertising API
Sometimes a lighter saw can be a better fit because it's easier to maneuver around and hold steadily. When lightness is the attribute you're searching for, you can't do much better than the 11-pound Skillsaw SPT77WML-01 worm drive circular saw.
The magnesium-built saw is equipped with a 15-amp dual-field motor with a no-load blade speed of 5,300 RPM — notably faster than many of the options at this price point. The powerful motor is designed for relatively heavy tasks, so it stays cool even with heavy use.
Apart from the fact that it's lighter and thereby easier to handle, the SPT77WML-01 also features a ready depth adjustment level that allows you to make quick switches between 1/4 ply cuts, 1/2 ply cuts, 3/4 ply cuts, and 2x ply cuts. This makes it highly recommended for cutting through thinner materials without snagging.
The saw is excellently balanced and equipped with a soft rubber grip that improves ergonomics dramatically. Thanks to its 53-degree bevel, the saw allows you to make a wider variety of cuts, making it the perfect all-in-one circular saw for a lot of projects.
Skillsaw SPT77WML-01 7 Pros & Cons
Pros
Pros
Has an anti-snag lower guard that keeps it working smoothly even with small cut offs
Very lightweight and ergonomically designed for optimum handling
Powerful dual-field motor that's capable of up to 5,300 RPM
Easy-to-use depth adjustment function
Cons
Cons
The cord can be very limiting due to its length
The on/off button can be tricky to push with working gloves
The magnesium footplate, while light, is much less durable; it can bend and make it difficult to cut straight or adjust the bevel
Sale
LIGHTWEIGHT: The Bosch CSW41 Circular Saw provides better comfort and control. The tool's magnesium construction delivers a lighter weight saw to reduce user fatigue and increase productivity
ACCURACY: Featuring a worm drive design, the CSW41 offers increased accuracy and precision. The left side blade design provides unmatched clarity of cut line
TORQUE: The saw delivers 5,300 no-load rpm but weights only 13.2 lbs. The powerful 15-amp motor provides torque for a variety of applications, matched with worm drive gearing
Last update on 2023-09-29 / Affiliate links / Images from Amazon Product Advertising API
A large gearing ratio and a powerful 15-amp motor have the Bosch CSW41 clocking no-load speeds of up to 5,300 RPM. A formidable cutting tool, the CSW41 brings to the table reliability in the form of a sturdy motor housing and a die-cast magnesium plate for added durability.
Right-handed users get a clear line of vision with this saw thanks to its left-side blade placement. It is hard not to be impressed by its compact size especially when you think about its large gear ratio.
The 15-amp motor delivers plenty of torque to eliminate wobbliness and facilitate crisp, straight cuts. Built almost entirely out of magnesium, it not only runs cooler but is also very lightweight. Five ball bearings are included in the design to balance it out and improve stability without taking away its wonderful lightness.
The CSW41 is not the hardest saw to master. This is possible because of the onboard wrench it comes with, which allows for quick and easy replacement of blades, brushes, oil, and even the diamond knockout.
You can perform a variety of cuts with the CSW41 thanks to its 53-degree bevel capacity.
Bosch CSW41 7 Pros & Cons
Pros
Pros
Great build quality using lightweight materials
High-torque motor
Reinforced magnesium footplate
Easy to use onboard features like blade replacement wrench
Soft ergonomic grip and light (13 pounds) design
Cons
Cons
Motor isn't as resilient as advertised; tends to start giving out after hard tasks
Heavier than most people prefer
Build quality is decent but not the most robust
Magnesium components create a lightweight saw (13.2 lbs.) that is well balanced and job site tough
Oil bath technology is created with a built-in fan and sealed gear housing to ensure 100% oil surface coating for less maintenance
Large cutting capacity (2-3/8" at 90°) with positive stops at 22.5°, 45° and 51.5°
Last update on 2023-09-29 / Affiliate links / Images from Amazon Product Advertising API
The 5377MG is lighter, more compact, and very maneuverable compared to most of the other options in the market. Being a hypoid saw, however, none of these features are particularly impressive since weight is a key factor with these rear handle saws.
At 13 pounds heavy, the Makita 5377MG hypoid circular saw is a decent option. Its 15-amp motor is as good as it gets at this price range, and the build quality is not too shabby either.
Expect to cut through nails, tough wood, and uncured timber with ease with the 5377MG's carbide-tipped blade. Interestingly, the wrench is also tipped with carbide for extra durability.
The saw manages a maximum no-load speed of 4,500 RPM and can cut 2 3/8 inches at 90 degrees and 1 3/4 inches at 45 degrees. Its precision-machined hypoid gears are sealed in an oil bath to facilitate perpetual lubrication, eliminating the need for regular servicing.
A larger grip that's further from the blade provides more room for proper handling even with thick gloves. Depth and bevel markings improve your ability to control the saw through difficult tasks.
Makita 5377MG Pros & Cons
Pros
Pros
It has a large grip that's positioned far away from the blade to create enough room for the perfect grip
Magnesium build makes it extremely lightweight
Hypoid gearbox needs no regular service
Carbide-tipped saw blade is tougher and can cut through nails easily
Cons
Cons
Does not have a brake
Blade comes slightly out of square upon purchase
Some units arrived damaged (though this is more of a shipping problem than anything else)
Which Worm Drive Saw is Worth Taking Home?
Which is the best worm drive saw for you? In terms of raw value and performance, the Hitachi C7WDM Worm Drive Circular Saw is by far the best option.
Great build quality, a high-torque motor with a 5,000 RPM rating, and tough material quality make it one of the most powerful and durable worm drive circular saws you'll find anywhere.
The saw is a bit heavy, but it is also very stable. It is the only saw in this list that comes with two extra blades — something to mull over the next time you're shopping for replacement blades.
Last Updated on August 7, 2020 by Tom Bradly