5 Best Socket Organizers of 2023 – A Comprehensive Buyer's Guide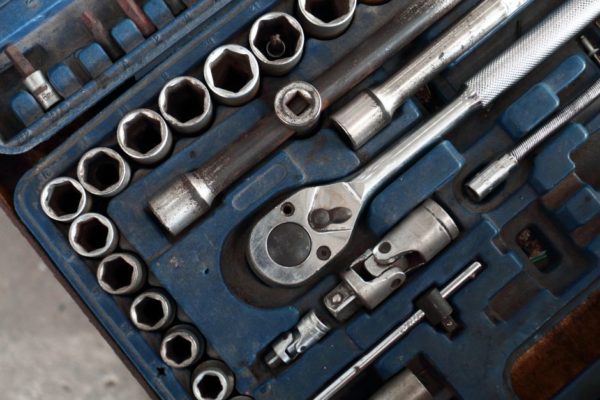 A socket organizer is a pretty straightforward piece of equipment. Its only function is to hold and organize your socket wrenches for you so that you don't have to go on an hour-long toolbox rampage just to find a specifically sized socket.
They're cheap, they're useful, and for the regular woodworker, they offer a much needed helping hand at the workshop.
Last update on 2023-06-07 / Affiliate links / Images from Amazon Product Advertising API
Why Would Anyone Need a Socket Organizer?
Anyone who works regularly with socket drivers knows just how slippery the little bastards can be. Digging through a sea of loose sockets in a toolbox is not anyone's idea of a good time, so if you want to skip the frustration of endlessly searching for something that doesn't want to be found, why not get a socket organizer?
A socket organizer helps in three ways. First, it organizes your sockets in one place, so you don't have to turn the whole workshop or garage upside-down when you can't find a specific socket.
Second, it makes it easier to access, allowing you to work faster and more efficiently.
Third, socket organizers help you store your sockets based on their sizes, and as any hobbyist or professional will tell you, the labeling of socket sizes on the organizer can be a godsend because most of them are marked using very tiny engravings.
There are different types of socket organizers, all of which cater to different workshop set-ups and socket capacities. Let's take a gander.
Types of Socket Organizers
1. Tray Organizers
Tray-style organizers are longer, wider, and can hold a large number of sockets at a time.
A tray organizer basically consists of posts or clips arranged perpendicularly on a tray. Most tray organizers don't have special clips, but rather rely on gravity to keep your sockets in one place.
What this means is that they can only be used horizontally, so the best place to put your tray organizer is somewhere on your work surface.
Some tray organizers come with foldaway swivel handles and can be used in drawers too.
2. Rail Organizers
Rail organizers are narrow strips of socket posts that look very much like tray organizers except they're narrower and can be attached to one another to create a wider rail system.
Rail organizers leave room for some mix and match functionality by allowing you to stick together rails of different sizes to create a customized tray-style socket organizer.
Unlike tray organizers, however, these ones can be mounted up on the wall. This is made possible through the keyhole slots on the sides of every rail.
Rail organizers usually come in sets of 3 to 10, so you can buy as many or as few as you need.
3. Pouch Organizers
Pouch-sized socket organizers are tiny and can only carry a few sockets at a time. On the plus side, they're small enough to fit in backpacks and pouches with ease.
You may not need a lot of these in your workshop, but you'll definitely appreciate the portability they give to your sockets. These come highly recommended for the traveling woodworker.
4. Magnetic Organizers
Magnetic organizers are a game-changing type of tech. They can hang vertically or stay horizontal, so they're pretty versatile. What you'll most certainly like about them is how easy it is to store and retrieve sockets when all you need to do is slide them onto their posts and let magnetism take care of the rest.
Magnetic organizers are also very nifty around the workshop if you have a lot of metallic surfaces. Don't know where to put yours? Simply slap it onto a metallic surface, whether vertical or horizontal, and its job is done.
5. Drawer Inserts
Drawer-style socket organizers are built with capacity in mind. They're very large and can carry a lot of sockets at once. Designed for large, busy workshops, drawer inserts are preferred by most because they keep your sockets safe and sound inside drawers.
What is the difference between these and tray organizers, you ask? Drawer inserts come with foam or rubber feet, swivel handles, and larger socket capacities than you'll find on most organizers.
5 Considerations to Make when Buying a Socket Organizer
1. Type of Organizer
We've seen just how many different types of organizers there are, so the first thing you'll have to decide is which one will best suit your needs.
Have a large number of sockets? Go for a tray organizer or a drawer insert. Need a socket organizer that you can customize? Rail organizers can give you a lot of freedom to experiment with different setups. Want an organizer that's easy to use and versatile? You're better off with a magnetic socket organizer.
It is good to go in with a bit of knowledge on the types of socket organizers at your disposal in order to make an informed choice.
2. Socket Capacity
How many sockets do you own? The socket organizer you settle for should at least keep all the important ones at arm's reach.
Buying many smaller organizers is more expensive than buying just one large capacity organizer. Don't be too eager to make this mistake. Know exactly how many sockets you have before settling on an organizer.
3. Socket Size
Socket drivers come in all sizes, so naturally, you'll find organizers for different sizes of sockets.
If you have a lot of differently sized socket drivers, then perhaps you'll find value buying an organizer that can accommodate a decent range of sizes. If you only have a few drivers, don't splurge on a fancy socket organizer. Instead, get one that can carry the basic 1/2-inch, 1/4-inch, and 3/8-inch drivers.
4. Resilience
It's weird that when it comes to socket organizers plastic's the most durable material you can choose. However, if you think about it, it makes a lot of sense.
Socket drivers are metallic and are therefore susceptible to rusting and corrosion. Plastic isn't, so even though it's not as sturdy as metal, your organizer won't be the cause of your sockets rusting.
ABS plastic is as good as you'll find here, and usually, it's more than enough.
5. Clip Tension
Here's where socket organizers get even better. Normal tray organizers don't need clip tension to hold on to your socket drivers — they have gravity for that.
However, things get a little more interesting when vertical socket organizers come into play.
Press-fit and lock-twist posts help keep socket drivers in place when hanging vertically. If you're short on surface space and need to have your post organizer nearby while you work, you can hang these on a wall next to your workbench for quick access.
Best Socket Organizers
Last update on 2023-06-07 / Affiliate links / Images from Amazon Product Advertising API
Measuring 18 inches and 6 inches wide, Mechan's 80pc portable tray organizer is a beast of an organizer. It offers 30 clips for 3/8-inch socket wrenches, 30 clips for 1/2-inch wrenches, and 20 clips for 1/4-inch wrenches as well as 10 replacement 3/8-inch clips.
All the clips on the tray are interchangeable so you can customize the setup as you want. There's also a foldable handle that qualifies this organizer as a drawer insert too.
This large socket organizer can be carried vertically without spilling all your wrenches to the ground, so it's handy for moving your tools around the workplace.
Last update on 2023-06-07 / Affiliate links / Images from Amazon Product Advertising API
With its mouthwatering build quality, this Olsa Tools 80pc organizer is a rare product because it is affordable despite being so well made.
The socket organizer is made from heavy-duty steel backing and spring loaded ball bearing clips, and this makes it capable of lasting for years. Of the 80 clips it comes with, 30 are for 1/2-inch drivers, 30 for 3/8-inch drivers, and 20 are for 1/4-inch drivers. This gives you a good mix of clips for differently sized socket drivers.
It comes with a handle that lets you carry it vertically without dropping any of your sockets.
Last update on 2023-06-07 / Affiliate links / Images from Amazon Product Advertising API
This is a decent small scale socket organizer with a 26-socket capacity and magnetic clips. It allows you to store a mix of differently sized sockets including 3/8-inch drivers, 7/16-inch drivers, 15/16-inch drivers, and 1-inch drivers.
It offers 13 shallow and 13 deep socket storage slots, so if you have a small collection of 30 or less, this is the organizer for you.
It has a ferrous magnetic backing so the organizer can be hung vertically or even upside down. If you're worried about getting scratches on metallic surfaces, don't be, because its magnetic base is fully rubberized. Socket sizes are clearly marked next to each slot to make it easier to find whatever you need.
The organizer is 14 3/4 inches long, and 3 1/2 inches wide, so fitting it in a toolbox shouldn't be a problem. It is a great piece of equipment especially if you regularly work with both shallow and deep sockets.
Last update on 2023-06-07 / Affiliate links / Images from Amazon Product Advertising API
The ARES 70204 aluminum socket organizer is a set of three rail organizers with a combined maximum capacity of 48 sockets. The rails, which measure 17 inches long each, are made from machined aluminum, which is lightweight and resistant to rust and corrosion.
The socket organizer utilizes spring-loaded ball bearing clips, 16 on each rail. It can accommodate wrenches of 1/2 and inch, 1/4 of an inch, and 3/8 inches in size, and there are 16 of each of these clip sizes available.
Loading the clips is easy and straightforward, and thanks to the clip technology, sockets tend to stay put even when hung vertically. It's nice that the clips are interchangeable too because you can customize each rail as you wish. This makes it possible to leave one or two at home when you won't be needing all your socket wrenches.
The organizer is wonderfully easy to organize thank to removable end caps and clips that slide easily along the rails.
Last update on 2023-06-07 / Affiliate links / Images from Amazon Product Advertising API
Despite having the capacity to carry only 26 SAE sockets, the ARES 70232 magnetic organizer is compatible with 13 different sizes of sockets including 11/32-inch sockets, 9/32-inch sockets, and 7/16-inch sockets.
The magnetic organizer is made from high-impact plastic that's quite resilient. Its magnetic base is covered by a layer of rubber that keeps it from scratching the surfaces it's stuck to.
The organizer offers 13 shallow and 13 deep socket organizers for a grand total of 26. It is quite small compared to the others as it measures only 9 1/4 inches long by 2.12 inches wide and 1.5 inches high.
The socket holder has sizes clearly marked by each slot although every socket clip is sold separately.
Best Socket Organizer For Your Money?
Which of these socket holders will give you the best bang for your buck?
It is not an easy decision, but ultimately it is the 80pc Mechan Tools socket organizer gives you the most in terms of capacity, build quality, and versatility.
You might argue that it is not as good as the magnetic socket holders, but the thing is, it doesn't have to be. It can be positioned horizontally or hung vertically so there's not much difference.
It is compatible with most of the common socket wrench sizes, and for most people, that's usually enough. Customizable clips are an added bonus since you can arrange your organizer however you please.
The Mechan Tools Portable Socket Organizer is where you should be looking if you want affordable quality and great value.
Last Updated on May 21, 2019 by Tom Bradly