Best Shower Heads To Buy in 2023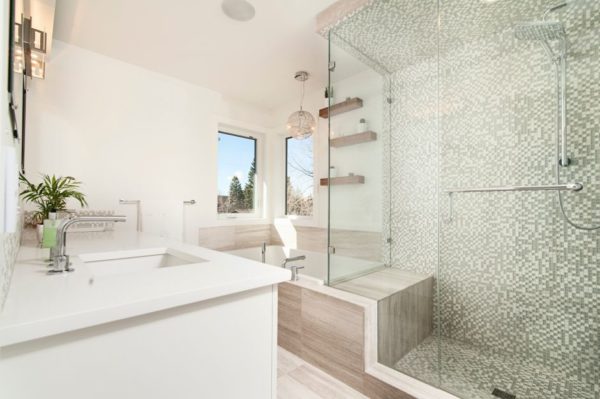 Choosing a new shower head, whether you're looking for the best rain shower head or a jacuzzi jet head is no simple task. There are virtually endless options available, from simple single-spray nozzles to luxurious rain showers.
Whether you're reimagining your bathroom space or looking to make a full remodel, the right shower nozzle can completely change up your morning routine. We're here to help you find the best shower head to suit your unique needs.
How to Change a Shower Head
How to change a shower head
The Different Types of Shower Heads
There are several different styles to choose from when looking at shower head option. The best one for your shower will depend on your budget, space constraints, and bathing preferences.
Single Spray Head
This traditional style of the shower head is found in most apartments and home bathrooms. It's the most straightforward type available, mounting to the wall and hooking up to existing plumbing lines without any additional bells or whistles.
Most single spray shower heads offer an adjustable nozzle that allows you to change the spray of water. You can customize things such as flow, water pressure, and volume to your liking.
It's relatively easy to swap out and install single spray nozzles. Most shower heads are built to screw on and off when changing. If the head is stuck, you can usually loosen it with a small amount of penetrating catalyst.
Handheld Mount
This is also a popular type of shower head. Though similar to a single spray head, instead of being mounted to the wall, a handheld nozzle is connected to your plumbing through a flexible three- to the six-foot hose.
While handheld mounts are slightly more complicated to install, they also offer greater flexibility than a single spray head. You can remove the shower head to clean hard-to-reach areas. The design also makes it easier to wash pets, children, and more in the shower.
For mobility impaired individuals, a handheld mount is one of the easier head styles to use in a seated shower. If you or someone in your care use a shower bench, it may be a good idea to opt for a handheld mount.
Sliding Bar Shower Head
This wall-mounted showerhead style is somewhat of a mix between traditional single spray nozzles and handheld models. The shower head mounts on a bar that allows it to slide up and down.
The sliding bar shower head is ideal for households with members of different heights, such as those with both parents and young children. It's easy for everyone to adjust the shower to a comfortable setting.
Unlike the handheld mount, this can be customized and used hands-free when bathing. This feature makes it another good option for households with a sitting shower.
The Best Rain Shower Heads
You may have seen rain shower heads featured in luxury homes or hotel suites. These shower heads are a relatively recent trend that adds an air of elegance to the washroom. The nozzle tends to have a large, flat, and streamlined design that works well with modern design elements.
Rain shower heads spread water over a relatively large surface area, making them ideal for those who prefer a shower with plenty of volumes. Most rain showers don't offer strong water pressure, however.
Because the water streams straight down, rain showers tend to be easier to clean than others. Less water gets on the walls, reducing the risk of mildew or unsightly residue buildup.
Rain showers can also be on the more expensive end of the scale when it comes to shower heads. Not only is the unit itself pricey, but rain showers often require extensive plumbing upgrades.
Dual or Multiple Heads
You don't necessarily have to limit yourself to just a single shower head. If your plumbing allows it, you can add multiple nozzles for a spray that hits you from every angle.
Keep in mind that with multiple shower heads, you'll be splitting up the flow of water between nozzles. This setup may result in lower water pressure. It's important to consider placement during installation to ensure that you get enough water coverage when bathing.
What to Look for in a Shower Head
No matter what type of shower head you decide to look for, there are some important considerations to make when comparing different models.
Water Pressure
If you prefer to have high water pressure when taking your shower, it's best to avoid rain or waterfall showers. Instead, opt for powerful single spray heads, handheld mounts, or sliding bar nozzles.
If you're not sure what the water pressure in your bathroom is, most hardware stores sell testers that you can screw on in place of your shower head. This can help you to choose a nozzle that will deliver just the right amount of pressure to suit your tastes.
Ideally, your water pressure should be between 40 and 60 psi. If it's registering as lower during tests, it could be because of leaks or clogs in your pipes. You may want to bring out a plumbing professional to check that everything is clean and operating as it should.
If you want more water pressure in your shower, you should look for heads without flow restrictors.
Using a shower head that needs less water to work can help to improve pressure while also cutting back on your water bill. While the average shower head uses 2.5 gallons of water, models with an EPA WaterSense certification use 2 gallons per minute or less.
Spray Patterns
If you want more control over the flow of water in your shower, you should look for a shower head with adjustable spray patterns. This feature allows you to change everything from volume to flow rate.
If you have multiple family members, it's a good idea to get an adjustable nozzle. That way, everyone can customize his or her shower settings.
Most adjustable shower heads offer at least three different spray patterns. You can opt for a wide, almost rain shower-like coverage, a drenching spray for general cleaning, and a jet pattern for targeted cleaning.
Our Favorite Shower Heads
Whether you're looking for a rain shower or a more traditional setup, we're here to help. Here are some of our top choices when it comes to shower heads available on the market today.
This rain shower head is designed to deliver a luxurious waterfall without sacrificing water pressure. It's designed to produce a high-powered stream of water instead of merely directing it downwards. It's one of the best rain shower heads we've evaluated.
The simple screw-in design of this nozzle makes it easy to install yourself without any tools.  It can fit on a wall mount, meaning you won't have to reroute your plumbing.
As an added bonus, the Spark Pod showerhead includes a free water filter and Teflon tape to help with fitting and installation.
If you want to save on water or simply prefer a low-pressure shower, this nozzle also comes with a removable restrictor. It's easy to install or remove as needed to alter your water usage.
For those of us who rarely get around to cleaning the shower, the Spark Pod comes with ninety powered anti-clogging, self-cleaning silicone jets. These remove dirt, limescale, and hard water deposits to keep your nozzle looking and working its best.
If you aren't completely satisfied with this showerhead, the product is backed by a thirty-day money back guarantee. It also comes with a one-year free replacement warranty in case it breaks or malfunctions.
Pros & Cons
Pros
Pros
Aesthetically pleasing chrome finish.
Higher pressure than other rain shower heads.
Easy to install.
Comes with a removable water restrictor.
Self-cleaning, anti-clogging jets.
Thirty-day money back guarantee.
One-year free replacement warranty.
Cons
Cons
Smaller size than most rain shower heads.
Not as much water pressure as other nozzle styles.
This versatile handheld mount has a five-foot steel hose and six separate full-water spray settings, ensuring that everyone in your household will be able to customize their shower to their liking. The different settings include Power Rain, Pulsating Massage, Power Mist, Rain Massage, and Rain Mist.
A Water Saving Pause Mode is ideal for those looking to cut back on their water consumption. It can be particularly useful when showering with a limited water supply, such as on a boat or an RV.
The shower head's handle is ergonomically designed for maximum comfort. A three-zone click-lever dial makes switching between spray settings effortless.
The AquaDance shower head has Rub-Clean jets to make maintenance easy. These powerful nozzles help to prevent lime buildup and stay clean.
It's not difficult to install this shower head. It's designed to fit any standard shower arm and screw in without the use of complicated tools or equipment.
If you ever have a problem with your AquaDance nozzle, a limited lifetime warranty ensures that you'll be able to fix or replace the unit risk-free. The manufacturer also offers live customer service for customers in the U.S.
Pros & Cons
Pros
Pros
Six different spray settings.
Water Saving Pause Mode for reduced water consumption.
Ergonomically designed handle.
Easy click-lever dial.
Rub-Clean jets.
Simple installation.
Lifetime limited warranty.
Access to live customer service representatives.
Cons
Cons
Easy to break in certain spots.
The hose wears out quickly.
This dual shower head offers the best of both worlds, giving you the luxury of a rain shower with the precision of a handheld mount.
You can use each showerhead individually, or turn them on together for more water coverage. Each nozzle has five unique settings, and there are more than twenty different full and combined water flow patterns.
Two settings help you to save water when necessary, or if you're simply looking to cut back on your utility bills. Water-Saving Economy Rain reduces water flow through the showerhead, while pause allows you to halt the flow when not in use.
A patented three-way water diverter with an anti-swivel lock nut and an angle-adjustable overhead bracket ensures that both heads can give you plenty of pressure, even when in use together.
This shower head is designed for easy, tool-free installation. Unlike many other dual shower setups, it doesn't require you to divert any water or alter your plumbing setup. You can connect the unit up in just minutes to any standard overhead shower arm.
The Hydroluxe Combo Shower Head comes with a ten-year limited warranty directly from the manufacturer in case of breaking or failure.
Pros & Cons
Pros
Pros
Both a rain shower and a handheld mount.
Twenty-four full and combined water flow patterns.
Water-saving settings.
Maintains strong water pressure.
Tool-free installation.
Ten-year limited warranty.
Cons
Cons
Switching between the two heads can disrupt flow or temperature.
The unit breaks easily.
This sliding bar shower head uses an innovative magnetic strip instead of a traditional slider for smooth, seamless adjustments.
The eighteen-inch stainless steel strip easily mounts to your shower wall. You can install it with long-lasting adhesive tape instead of screws or drills, making the shower head ideal for rental units.
The sleek design of the strip and shower head make it look great in any bathroom. It has a modern aesthetic and a chrome finish to make it an eye-catching addition to the shower.
A robust five-foot hose connects the shower head to the adjustable strip, giving you even greater control over water flow. You can use this nozzle like a sliding shower or as a handheld mount depending on where you're washing.
The shower head comes with five luxury spray modes that give you different volumes and pressures of water as you wash.
Easy-clean jet nozzles allow you to remove mineral buildup with the simple swipe of a finger, keeping your shower working its best.
The Waterpik comes with a lifetime limited warranty, so you can have full confidence in the longevity of the product.
Pros & Cons
Pros
Pros
Adjustable height.
Can function as a handheld mount.
Tool-free and screw-free assembly.
Attractive design.
Five different spray modes.
Jet nozzles are easy to clean.
Lifetime limited warranty from Waterpik.
Cons
Cons
Pricier than alternatives.
The adhesive strips aren't very strong.
This single spray head might have a simple design, but it offers plenty of versatility. There are six different spray settings, including Saturating Power Blast, Pulsating Massage, Gentle Rain, and two mixed modes.
A Water Saving spray mode allows you to cut back on water usage and take an eco-friendlier shower. The head also comes with a removable flow restrictor, enabling you to reduce water usage or increase pressure as desired.
This shower head comes in a variety of finishes to match any bathroom, including chrome, oil-rubbed bronze, polished brass, and brushed nickel.
The shower head has a sturdy construction, being made of heavy-duty ABS plastic, strong brass fittings, and rust-free stainless steel.
It's safe to use the Aqua Elegante shower head both indoors and outdoors, making it a good choice for campers, boats, and open showers.
This shower head is easy to install by twisting on and off. The model contains clear, concise step-by-step installation instructions just in case you get lost. You can also hire an expert to set the unit up for you.
Once you have the shower head set up, it's easy to maintain. The nozzle is self-cleaning, which helps to prevent calcium and lime buildup from hard water supplies.
Pros & Cons
Pros
Pros
Six spray settings.
A water-saving mode.
Comes in a choice of four finishes.
Durable construction, with stainless steel, brass, and ABS plastic.
Safe to use both indoors and outdoors.
Expert setup option.
Self-cleaning nozzle.
Cons
Cons
Small size.
Fairly low water pressure.
In Conclusion
Out of all or top choices of shower heads, the Spark Pod Rain Shower Head is our top choice. It comes highly recommended thanks to its innovate and attractive design, and we love the versatility that it offers. Though it's a rain shower, the Spark Pod shower head offers impressive water pressure.
Replacing your showerhead can help get you off to a clean start every morning before tackling the day. You can find nozzles in a wide variety of styles and sizes that are sure to enhance your bathing routine.
Last Updated on April 9, 2019 by Tom Bradly