5 Best Battery Powered Lawn Mowers of 2023 – Review & Buying Guide
Battery-powered lawn mowers are the new cool for homeowners seeking ease of use, versatility, and reliability. This review looks at the five best battery-powered lawn mowers on the market, and the factors to consider for the best purchase.
Keep reading.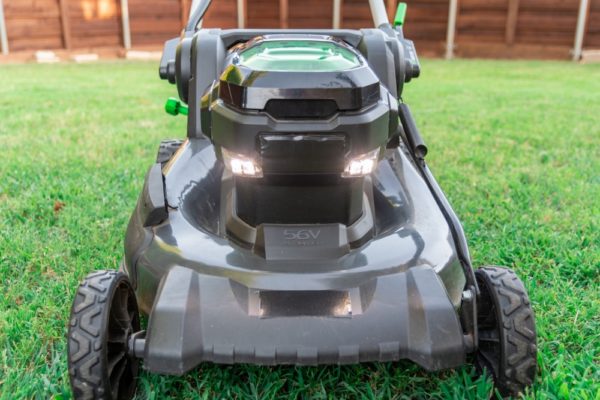 Battery-powered lawn mower buying guide
Slopes and hillsides infested with Bermuda; that's what generally characterizes a big yard. For a long time, I relied on gas-powered lawn mowers for their efficiency. That's until I tried a battery-powered machine at a friend's home and decided their ease of use makes up for what they may lack in power.
There was no more fighting with levers when starting the machine. No more having to carry gas cans or deal with the noisy, sputtering engine and the choking fumes.
At that instant, I also learned just how easy it can be to adjust the cutting height, and how mowing can turn from a tough workout into an enjoyable adventure. I knew I had to get one of these top machines.
"But, hey, not all battery-powered lawn mowers are reliable or user friendly," my friend was quick to warn. He shared with me quick tips for choosing the best battery powered lawn mower on the market. For people with complicated landscapes like mine, it takes a little more searching.
Here is what I learned:
Go for longer battery life and faster recharging times
You want to be able to accomplish a few miles before the juice runs out. And when it does, you want the battery to charge quickly so you can finish your task before the heavens give you an unsolicited bath. Lithium-ion batteries are touted to be the longest-lasting.
More voltage means more power
A 40-volt battery performs better than a 20-volt battery. But the stated motor power has to match the battery's voltage. For instance, a 250-watt engine would work better on 40V than 20V batteries.
Cutting height adjustability
There are times when you might want to cut your grass lower … in the spring, for instance, so you don't have to cut the grass again after three days. But in the summer or winter, you will want to cut the grass a little higher because growth happens much slower in these seasons. The right battery-powered lawn mower should have adjustable cutting heights for better lawn maintenance.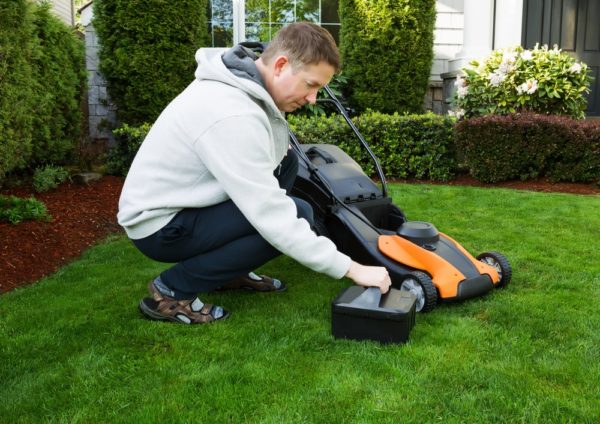 Speed control and load sensing features help with battery efficiency
The top battery-powered models on the market come with speed adjustability. Varying the speed of your machine could help preserve battery life. Some others feature load sensing technology that automatically cranks up more power on tough grass and tunes down power consumption on softer areas of the lawn.
Ergonomics matter too
What is the weight of your machine? Does it have a self-propulsion mechanism? In my case, I wanted a lighter machine or one that would self-propel to keep me from breaking a lot of sweat while trimming my undulating yard. Other things to consider would be ease of starting, ease of height adjustment, and handle length.
Versatility could save you from extra expenses
I particularly liked my buddy's lawn mower because he could switch it into a trimmer or an edger whenever he wanted. That meant that he didn't have to spend more on these items or clutter his garage as I did.
As I did a little research, I found that some models can also mulch or bag the grass clippings for you. I found one just like that, and it's helped me keep my lawns cleaner as well as more vibrant and green.
The Best Battery Powered Lawn Mowers on the Market
BLACK+DECKER 3-in-1 String Trimmer/Edger & Lawn Mower, 6.5-Amp,...

3N1 DESIGN – Electric mower easily converts to string trimmer and edger via a built-in foot pedal for versatile use.
6.5 AMP MOTOR – Supplies the ideal amount of power when trimming grass, weeds, and overgrowth.
GEAR DRIVE TRANSMISSION – For tackling tougher, thicker grass without getting bogged down.

Last update on 2023-06-07 / Affiliate links / Images from Amazon Product Advertising API

Editor's Comments
This BD electric lawn mower is branded as 3-in-1 because it can function as a lawnmower, a trimmer, or an edger. That means that you get more value for your money. You can cut grass and trim the pathways and edges without getting a second or third tool.
The engineering of this machine includes a power drive transmission that reportedly helps to achieve smooth transmission of power to and from the motor. It increases the power delivered to the engine and keeps the machine from bogging down.
The BD lawnmower is powered by two 20V batteries that the manufacturer says are pretty long-lasting. On a single charge, the batteries can last up to 2.5 hours. But be warned that the lithium-ion batteries take a long time to charge, so you might want to have spares handy.
This machine's design features an automatic feed system. This achieves continuous cutting through a spool rotation that feeds out without bumping.
The 3-in-1 Black Decker battery-powered lawn mower is lightweight, weighing 14.4 pounds. Because of this, you should be able to handle this machine without being built like the Hulk from the Marvel movies.
Finally, the cutting height is 1.6 inches. For bush clearing, you might want to find other powerful machines. But owners of small lawns will likely appreciate the power output of this machine and its ergonomics.
Pros
3-in-1 lawnmower
Lightweight and ergonomic design
Automatic feeding system
Cons
The battery has a relatively short life
Smaller in size, therefore taking longer to finish the job

---
Sale

Sun Joe MJ401C-PRO 14-Inch 28-Volt Cordless Push Lawn Mower, w/Rear...

POWERFUL: Perfect for small to medium lawns, battery-powered mower's durable steel blade cuts a crisp 14" wide path with precision in a single pass.Square Feet per Charge 2150
PERFORMANCE: The 28 V 4 Ah rechargeable lithium-ion battery for up to a quarter acre of continuous mowing per charge
ADJUSTABLE DECK: Tailor cutting height with 3-position manual height adjustment

Last update on 2023-06-07 / Affiliate links / Images from Amazon Product Advertising API

Editor's Comments
If you want a modest and easily maneuverable battery-powered lawnmower, the Sun Joe model could be your best choice.
The cutting width is 14 inches, which is to be expected in such a compact lawnmower. Beware, though, that even with this small size, this machine weighs 23 pounds, making it heavier than the BD model seen earlier. Grass cutting may end up being a physical workout with this machine.
The BD model reviewed earlier runs on two 20-volt batteries, but the Sun Joe needs 28-volt batteries for its power source. The rechargeable lithium-ion batteries it uses can supposedly deliver a quarter acre of mowing on a single charge. Lithium-ion batteries are generally long-lasting, but a quarter an acre of mowing per charge? That sounds a little unbelievable.
One thing to like here, though, is the adjustable cutting height. You can tune this manually in three different settings. This height adjustability can help you achieve a personalized lawn trimming that is healthy for your grass, depending on the climate in your area.
The design also features a detachable grass catcher that makes it easy to remove and dispose of grass clippings. This inclusion helps to keep the machine running at peak and enables you to finish mowing more quickly.
Another impressive feature is the safety lock that prevents accidental starting of the machine. This inclusion could save on power consumption, as well as protect the beauty of your lawns.
Pros
Adjustable height settings
Detachable grass catcher
Cons
Small cutting width, not ideal for big lawns
Battery life not as powerful as advertised

---
Snapper XD 82V MAX Cordless Electric 19" Push Lawn Mower, Includes Kit...

Up to 90-minutes run time with (2) Briggs & Stratton 82V Lithium ion 2.0 Batteries; Kit comes with (2) 2.0 Lithium ion batteries and rapid charger
19 inch steel mowing deck with 3 in 1 design mulch, bag or side discharge grass clippings easily.
Smart, efficient load sensing technology power adjusts to meet the demands of the cutting blades

Last update on 2023-06-07 / Affiliate links / Images from Amazon Product Advertising API

Editor's Comments
Like the Black & Decker machine that started our review, this 3-in-1 model stands to give you the biggest bang for your buck. It can cut and then mulch, bag, or discharge the grass clippings, thus saving you time.
Like the Sun Joe model seen earlier, the Snapper XD Lawn Mower runs on two 28-volt lithium-ion batteries. You could, therefore, expect equal performance in power and longevity.
Additionally, this lawnmower features a battery efficiency that the manufacturers call "load-sensing technology." This supposedly regulates power consumption based on the toughness of the overgrowth. You may, therefore, be able to get long hours of use for every single charge.
Meanwhile, this is the first battery-powered motor in our review to use a 1200-watt brushless motor. These engine types are known for efficiency and top performance. They are also, in most cases, a guarantee of durability and low-maintenance requirements, according to experts at KDE Direct.
Now with lawn mowers like the Sun Joe, you get a 3-level height adjustment, but the Snapper XD takes things a notch higher. You can adjust the cutting height to seven different positions, thereby achieving more control over the beauty and health of your lawns.
The cutting width is 19 inches, making the Snapper XD an ideal choice for bigger lawns. It saves time.
Pros
19-inch cutting width
3-in-1 functionality mulching, bagging and discharging
Seven adjustable cutting heights
Load-sensing technology and a brushless motor
Cons
Grass gets stuck in the wheels
Hard to find replacement parts

---
DEWALT 20V MAX* Lawn Mower, 3-in-1, 2 Batteries (DCMW220P2)

Push mower comes with powerful brushless motor and (2) 20V MAX* batteries working simultaneously for high power output.
3-in-1 push lawn mower for mulching, bagging and side discharging
Battery lawn mower has heavy-duty 20-inch metal deck

Last update on 2023-06-07 / Affiliate links / Images from Amazon Product Advertising API

Editor's Comments
Like the Snapper XD battery-powered lawn mower, the DEWALT DCMW220P2 uses a brushless motor. You can, therefore, expect power efficiency, durability, and quieter operations.
It has a 20-inch metal deck that delivers a cutting width of the same size. For big lawns that you need trim quickly, bigger lawn mowers like this could suffice.
I like the fact that the machine includes both folding handles and lifting handles. The ergonomics facilitate ease of use and hassle-free storage.
The DEWALT machine runs on two 20-volt batteries. So, you might expect slightly less power than what you get with the Snapper DX lawnmower. The manufacturers have promised a higher torque in tougher overgrowths using the brushless motor design. But there is no load-sensing technology here like you get with the Snapper XD.
You might appreciate that this is a 3-in-1 machine that lets you cut grass and then mulch it, bag it, or discharge the clippings through the rear. These functionalities help you achieve cleaner lawns and deliver the required nutrients and moisture to your grass.
The cutting height is adjustable between 1.5 inches and 3.4 inches through a single lever system. Your lawn health may depend on such versatile height adjustability. The mowing height you choose also affects the frequency with which you will need to mow; shorter heights work best for busy homeowners.
Pros
3-in-1 functionality; mulching, bagging, or rear discharge
Height adjustment
Brushless motor
Wider cutting width
Sturdy metal construction
Cons
Battery life problems
The small bag included fills up too quickly

---
Scotts Outdoor Power Tools 61940S 19-Inch 40-Volt Cordless Lawn Mower,...

Powered by 40-Volt 5Ah lithium-ion battery and fast charger included; Auto-adjust, 2-speed brushless motor for gas-like power, increased efficiency, and run-time
19" cutting width with durable steel deck; Single point cutting height adjustment lever; Steel tube front guard and lift handle
3-in-1 functionality provides a mulching, side discharge, and rear-bagging system; Grass catcher with 16 Gal bag capacity; Adjustable cutting height of 1.5"-3.75"

Last update on 2023-06-07 / Affiliate links / Images from Amazon Product Advertising API

Editor's Comments
The Scotts Outdoor Power Tools lawnmower has a 19-inch cutting width that could help you trim your lawns at a decent rate. No one likes to spend the whole day cutting grass in the hot sun, right?
The machine runs off a 40-volt 5Ah lithium-ion battery and comes with a fast charger. The included battery charger could save you a lot of frustration when the battery dies in the middle of your operations.
But does its 40-volt battery deliver more performance than the two 20-volt batteries as in the earlier reviewed models? Hardly.
Most impressive, though, is the 3-in-1 functionality for mulching, bagging, and rear discharge of grass clippings. As stated before, this feature is a boon for achieving cleaner and healthier lawns.
You also have a single-point height-adjustment feature. It's a good thing they have included the ability to control cutting height, but don't expect the same performance as the 7-point height-adjustment functionality of the Snapper XD.
For compensation, the manufacturers have included speed variability. The two-speed brushless motor could mean that you get to save on battery power when working on smooth patches of grass, and ramp up performance when dealing with tougher overgrowth.
Pros
Durable steel construction
19-inch cutting width
Adjustable cutting height
Cons
Not much maneuverability
Short battery life

---
The Best Pick
The Snapper XD Lawn Mower stands out as our top choice. This battery-powered lawn mower can mulch, bag, or discharge the grass clipping through the rear. This should keep your lawns healthier and cleaner while saving you from extra work.
The mower uses two 28-volt lithium-ion batteries. For power efficiency, the makers have designed it with a load-sensing technology that saves power on softer grass and increases performance on thicker overgrowth.
And the 1200 watt motor in this machine is brushless. Brushless motors are suitable for durability, low maintenance, and reliable performance.
You also get seven height adjustment points with this lawnmower, making it highly versatile for grass trimming in different weather conditions and for homeowners of varying schedules. These features and more make the Snapper XD Lawn Mower our most recommendable buy.
Last Updated on August 7, 2020 by Tom Bradly