5 Best Tile Saws of 2023 – Reviews & Buying Guide
Tiling is an intricate part of a construction job. Preciseness is a must when sizing and cutting materials so as to avoid flaws. While the traditional heavy-duty tile saws can do a perfect job, they tend to be overly bulky for professionals on the go and DIY aficionados at home.
Also, you probably don't have a big budget set aside for the industrial grade tile cutting power tools. However, that doesn't have to put a stop to your repair and installation projects at home. You can invest in a tile saw that is smaller in size, easy to work with, efficient and cheaper.
The Five Best Tile Saws in the Market 
So now that you have a general overview of the best features to look for in a tile saw let's find out which ones meet the cut.
#1. SKIL Tile Saw 3540-02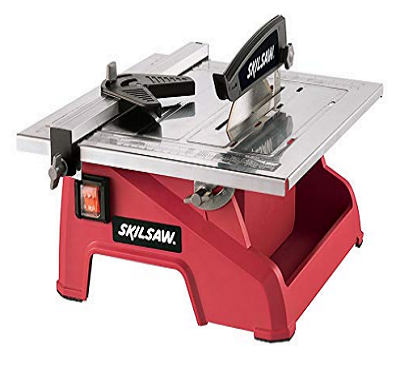 The SKIL Tile Saw 3540-02 wet tile saw uses diamond coated blades for rigorous cutting action. This tile cutting machine weighs about 17.8 pounds with the dimension of 18 by 14.5 by 7.8. SKIL Tile Saw 3540-02 is an electric saw with full power cords.
The slide top is made of corrosive-resistant and rustproof stainless steel and can support tiles dimensions of 12 x 12 inches. The cutting blade is 7 inches in diameter and delivers miter cuts from 0 to 45 degrees. SKIL tile saw uses also has a blade cooling water tray that helps in the cooling and cleaning of the blade free of debris and dust.
Power
This model of SKIL wet tile saw has a power rating of 120V AC. Its amperage is 4.2 and with a blade speed of 3600 rpm. If you want a tile saw with a powerful motor then the SKIL Tile Saw is an ideal candidate- you will have an ability to cut through thick tiles, stone, and masonry with greater ease.
Durability
We all want equipment that can serve us for long without breaking down or succumbing to rust. Rusting is especially a big problem with wet tile saws since they use water for cooling and cleaning. This type of tile saw uses a sturdy, stainless steel table is resistant to rust and corrosion.
Accuracy
The saw has an adjustable rip fence for perfectly fitting the tile for a clean cut. The rip fence prevents side to side shifting of the ceramic tiles during cutting to deliver the best accurate results. The miter gauge is has a high degree of accuracy. You can also make precise level cuts at between 0 and 45 degrees.
Pros:
The SKIL 3540-02 tile saw is small and lightweight making it highly portable
It delivers efficient results in small tiling projects
The tile saw comes with an adjustable rip fence for accurate cuttings
Rust/corrosive resistant steel top for tile support
Cons:
It is a slow saw, with a low motors speed
The saw's water tray is too small and needs regular refilling
#2. SKIL 3550-02 7-Inch Tile Saw with Hydro Lock Containment Water System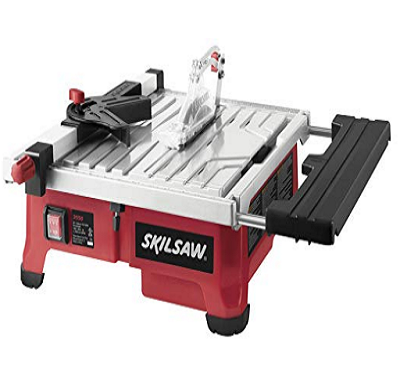 In the 3550-02 model, SKIL unveils their Hydro Lock System that keeps sawdust and water from splashing around the site. There are also many unique features that DIY enthusiasts might find handy in this tile saw.
Power 
Similar to the SKIL 3540-02, this tile saw is compact and lightweight weighing just slightly over 20 pounds. The machine is powered by a 5 amp motor whose blade can cut through thick tiles and marble. The saw's aluminum top slide is corrosive/rust resistant
Accuracy 
The saw table has a 16' by 16″ dimension with an additional 4" for the plastic outrigger. Nevertheless, the outrigger is flexible, allowing adjustment for up to 25-1/4″ work surface. That means that you can expect a smooth work experience even with big tiles.
Adjusting the fence is quick and easy, with the clamps easily fitting in place. For angled cuts, the SKIL3550-02 7 uses a removable miter gauge placed on top of the fence. The gauge slides effortlessly and fits firmly on the fence. One downside I found here is that it can be quite a challenge reading the black scale on the black background.
Water containment 
SKIL's HydroLock System helps to solve a problem that is synonymous with many wet tile saws. Unlike in other wet saws that splutter dust and water around the place, the SKIL 3550-02 keeps away the wet mess with the HydroLock containment system. That makes the saw ideal for those who wish to work indoors without having to shift their work station to the basement.
The HydroLock containment system, in this case, is a plastic bag hanging over the blade. The containment system is kept in place by a black rubber seal. During cutting, the blade pulls water from the reservoir to cool the tile. The HydroLock guard works to prevent overspray and leaks.
Pros
The inventive HydroLock System delivers well on its functionality to contain the used water and promote neatness in a given workspace
Its compact and lightweight nature makes it highly portable
Top blade speed of 3600 rpm
It is waster efficient
The diamond blade is visible during the cutting, enabling you to monitor the action
Cons
It can be difficult to align the fence properly
The plastic HydroLock containment system often gets muddled
For professionals in the construction industry, the SKIL 3550-02 might not be powerful enough for cutting big and rough tiles
#3. Leegol Electric 7-Inch Tile Saw – Portable Wet Porcelain Tile Cutter Table Saw with the WaterSystem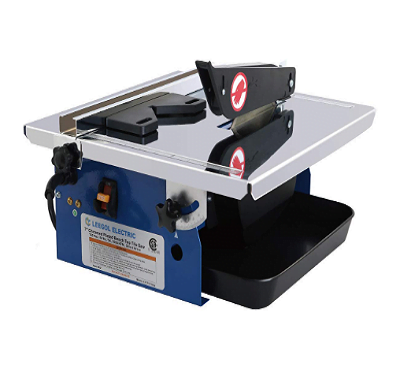 The Leegol Electric 7" tile saw also uses rip fence that is adjustable and miter gauge for accurate straight as well as angled cuts. The saw has a diamond blade that delivers a smooth cutting. The water tray keeps the blade cool and clean.
If you want a small tike saw that could fit comfortably in your small workspace, then the Legal Electric 7 inch would be ideal. For that bathroom or kitchen face-lifting project will go a lot faster with the Leegol 7-inch Wet Tile Saw.
A 120V/60Hz/5A motor powers this wet tile saw. The blade speed is relatively fast peaking at 3550 RPM. Coupled with a 7-inch diamond blade, you will be able to work with all tile and masonry materials. The saw' maximum cutting capacity is 1 inch thick and 12 inches wide. The Legal Electric 7 inch wet saw has a table dimension of 15-3/4" × 16-1/2."
Pros
The saw features impact-resistant tub
It is easy to set up
It is lightweight and fully portable
The table top is chrome-painted to prevent rust
It facilities Bevel cuts from 0 up to 45 degrees
It has a powerful motor with a thermal protector
Simple structure and easy to use
Delivers accurate cuts
Cons
A thin blade that wears out fast
The adjustable frame doesn't fit firmly
Makes a mess with the spilling water and dust
The water tray is hard to empty and refill
#4. Porter-Cable PCE980 Wet Tile Saw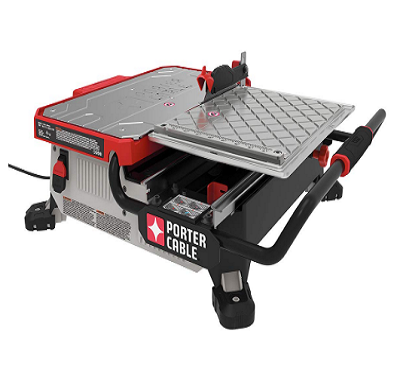 This is a 7-inch tile saw powered by a 6.5 amp motor. This tile saw model uses a dolling cutting cart to enhance cutting accuracy down to a fraction of an inch. The built of the saw is compact and lightweight, weighing only 27 lbs.
The Porter Cable 7 inch table top wet tile saw also features a water containment system. The cutting cart can accommodate tile dimensions of 12″ x 12″. There is also an ergonomic handle fitted for easy portability. It has an onboard miter square scaling for accurate measurements.
This tile saw has a powerful motor that works efficiently on porcelain, ceramic and stone tiles. Users can get an accuracy of 1/16 inches on cuts of up to 12 inches long. The tile saw has a motor speed of 2850 rpm.
Unlike the plastic water containment bag in SKIL 3550-02 7-Inch HydroLock, the Porter-Cable PCE980 Wet Tile Saw uses a splash guard and a drain plug to direct the used water to a bucket to prevent messes on the job site.
Pros
It comes with a miter square for lining up miter cuts
The saw has a roll cage for easy portability
The splash guard ensures a neat working environment
The deck is made of stainless steel to resist rust and corrosion
Cons
If you are a professional, you might find this tile saw to be too slow
The rollers are nylon and prone to wear
You can only create bevel cuts up to 45 degrees,
It can get a little too loud
#5. QEP 22650Q 650XT 3/4 HP 120-volt Tile Saw for the Wet Cutting of the Ceramic as well as Porcelain Tile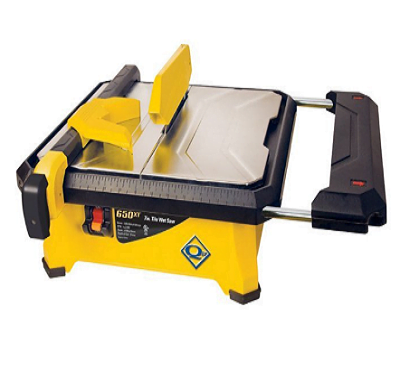 The QEP 22650Q is a wet tile saw that uses water and a diamond blade. It is small in size, weighing only 23 pounds with dimensions of 20.08 x 15.74 x 9.88 inches. A 0.75 HP/120V motor powers this tile saw, enabling it to reach speeds of 3600 rpm. The saw also features an extension table, a cutting miter, and a water baffle containment system.
Blade and Cutting
The QEP 22650Q features a 7-inch diamond coated blade that moves at a speed of 3600 rpm. The best part about this tile saw is that it's able to cut through a wide range of materials both large and small.
Design 
The QEP 22650Q is made of rust-resistant and durable steel to ensure that the machine serves you for many years. The fact the tile saw is small and lightweight makes wrong storage in small spaces easier. The flay table is adjustable at angles to give you the best accurate cuts.
The saw's internal water containment system ensures that the blade is cooled and cleaned without making a mess of the whole place. The QEP 22650Q also features an 8-inch wide table that accommodates large slabs of tiles.
Pros:
The QEP 22650Q tile saw is compact yet powerful
Great for DIY light tiling projects
The saw features an innovative extension table for massive slabs of tiles
Cons:
The motor has a low horsepower
The motor speed is still low for professional tiling
Not ideal for long term projects
Each of the individual tile saws in this roundup has its unique features, pros, and cons. However, if you were to make up your mind among the five, which would be your choice?
You have to admit the SKIL 3550-02 7-Inch Wet Tile with the Hydro Lock Containment Water System stands out from the crowd. This tile saw has the highest blade speed of 3600 rpm in this review, and it enables both miter and bevel cuts. The aluminum table is rust resistant, and the HydroLock technology helps to suck away water and dirt. By far the SKIL 3550-02 7 inch tile saw checks right on all the precepts earlier discussed.
Things to Look for When Purchasing a Tile Saw
There are many things to look out for when purchasing a tile saw. Even though tile saws share the same design, there are unique features that can make or break the deal with these machines. Wet tile saws are the best if you would like to maintain the quality and beauty of your tiles in the process.
Water efficiency 
As you well know, wet tile saws need water to function efficiently. Water helps to lubricate and cool the blade. Additionally, water helps to keep the blade clean from dust. A wet tile saw may need either freshwater or use a water tray for recycling water.
With a tile saw that uses fresh water, you are likely to run into challenges and limitations regarding water sourcing. Your workstation will have to be near a continuously-running source of water. For saws that come with a water collection tray, you will have the flexibility and convenience to work anywhere without worrying about water supply.
Blade size
Size matters. The bigger your wet tile saw blade is, the deeper it can cut. Nevertheless bigger tile saws will require a significantly larger motor to turn those large-sized blades with efficiency. The typical wet tile saw blade you will find out there ranges from 4.5 to 10 inches in diameter. Most professionals and DIY enthusiasts prefer a blade size of about 7 inches which is big enough to cut through any level of thickness.
Angular and straight cuts
A miter cut is done with the blade vertical at an angle less than 90 degrees. The bevel cut is made with the blade in a slated position. To successfully make such cuts, you will need to choose a tile saw that comes with a table plus a back fence that allows the angular cuts through ceramic tiles. Most wet tile saws include enabling miter cuts, but only a few come with a blade beveling feature.
Motor power
Presumably, you only have a short time frame allocated to your project, so speed is of the essence. How fast the blade spins depends on the motor. For a saw with smaller blades, less power will be needed to reach the same speed as bigger blades. However, depending on your saw's specifications, you may still get maximum speeds with bigger blades.
Artistic cuttings
If your goal is to achieve artistically curved edges with your tiles, then you might want them to consider plunge action when purchasing a tile saw. The technically advanced wet tile saws often feature a plunging head to create curved cuts. However, only a few saw models can plunge into the tile.
Last Updated on February 5, 2020 by Tom Bradly